Future of SEO in 2022: 11 SEO Trends to Know
Future of SEO in 2022: 11 SEO Trends to Know
When it comes to marketing your business, you know that search engine optimization (SEO) is a valuable strategy for growing your business online. As you look at your strategy going into 2022, you may wonder if you're doing all the right things to help your site rank in the new year.
So, what does the future of SEO in 2022 look like? Here are the trends you'll want to note for your strategy:
Keep reading (and check out our SEO in 2022 video below) to learn more about each of these trends!
3. Refreshing existing content
Everyone produces SEO content these days, and while publishing new content will remain a focus of SEO, so will refreshing existing content. That's because refreshing existing content (specifically content published two or more years ago) seems to get revived when it comes to rankings.
With these kinds of results, you have a quick way to regain:
Plus, you'll maximize your initial investment in this content. So, when thinking about the future of SEO and your strategy, consider adding content refreshes to your plan if you've invested in SEO content for a few years now.
4. Optimizing for different search mediums
Besides searching by text, people can now search by voice and image through apps like Google Lens. Depending on your business and target audience, these newer mediums can offer you a low-competition option for driving traffic, leads, and revenue.
If you're curious to learn more, check out these resources:
Should you work with an SEO agency like WebFX, your dedicated account manager and SEO team can offer recommendations, like if these strategies are worth your time and investment now or later in the future.
5. Focusing on user search intent
Next on our list of the latest SEO trends is focusing on user search intent. This trend has been popular over the years and still holds true for 2022. Creating pages that focus on user search intent is fundamental to succeeding with SEO in 2022.
User search intent, which is the meaning behind why someone conducts a search, is critical for helping you rank in search results. People conduct searches looking for specific information. If your page doesn't provide the information they need, you won't rank well in search results.
If you want to meet the user's search intent, look at what's already ranking for your pages' key term. So, for example, if you're trying to rank for "how to organize your closet," you'd look in the search results to see what's ranking.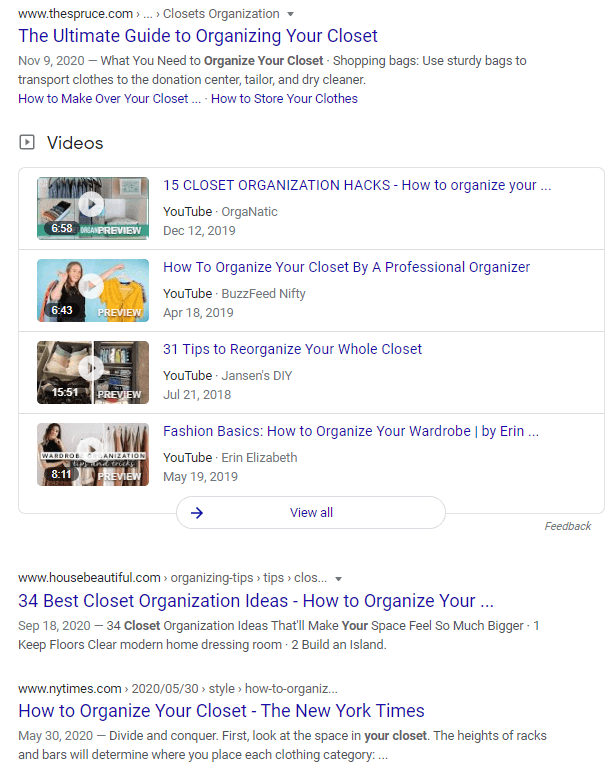 Based on the search results, you can get an idea of how to approach your content.
6. Creating dynamic evergreen content that informs your audience
The future of SEO in 2022 also includes creating evergreen content. Content is a critical component if you want to succeed with SEO in 2022.
If you don't create content, you won't have anything to rank in search results. If you want your content to rank in search results, you need to optimize it for search engines.
So, to keep up with the latest SEO trends, you need to create evergreen content, which is content that is sustainable over time. Things like news articles are not evergreen, as they're dated and only relevant for a short period.
You want to create content that will be relevant six months, a year, or longer after it's published. When your content is relevant over time, it gives you more time to optimize your content to rank in search results.
To start generating evergreen content, think about critical topics in your industry or common questions your audience asks. These are great places to start with creating content.
For example, if you run a candy shop, people might ask questions like:
What chocolate is best for making candy?
How is [candy type] made?
How do you make candy sour?
How do you keep chocolate from seizing?
What's the best candy to make for Christmas?
You could use these questions as inspiration for creating content that's helpful and informative to your audience.
7. Delivering a mobile-friendly site
Next on our list of SEO trends for 2022 is delivering a mobile-friendly website. A mobile-friendly website is fundamental if you want your SEO to succeed in the new year.
Google uses a mobile-first index, which means it takes your site's mobile version into account when ranking your site in search results. So, if you don't have a mobile-friendly website, your rankings will suffer.
To get a mobile-friendly website, integrate responsive design into your site. Responsive design ensures your site adapts to whatever device your audience uses. Whether they access your site from a smartphone or tablet, they'll have a positive experience.
So, by optimizing for mobile devices, you'll help provide a positive experience that enables you to rank better in search results.
8. Optimizing for semantic search
The future of SEO in 2022 also includes semantic search. Semantics is the study of words and their relationships and what those words mean in specific contexts. Regarding search engines, semantic search focuses on determining the context and intent of search queries.
Semantic search is critical for 2022 because it focuses on delivering the best user experience for your audience. You create content that's focused on your audience and giving them the best experience on your site.
So, how can you optimize for semantic search?
Write for users, not search engines: Many companies make the mistake of writing for search engines so they can rank better in search results. Instead, you should focus on writing for users. Search engines are smart enough to pick up on what users want, so creating content geared toward users will help you rank.
Answer your audience's questions:

 

If you want to provide content that works for your audience, you need to answer your audience's questions. So, if someone wants to know how to bake a cake, your content should explicitly tell your audience how to bake a cake.
Add structured data:

 

Structured data

 

is valuable for helping you provide your audience with useful information. This type of data includes information like product ratings or recipe cooking time. You can provide your audience with helpful information that makes them more likely to click on your listing.

9. Optimizing for Google Discover
Next on our list of the latest SEO trends is optimizing for Google Discover. Google Discover is a curated feed of content relevant to the user's search behavior and online browsing that appears on the Google homepage on mobile.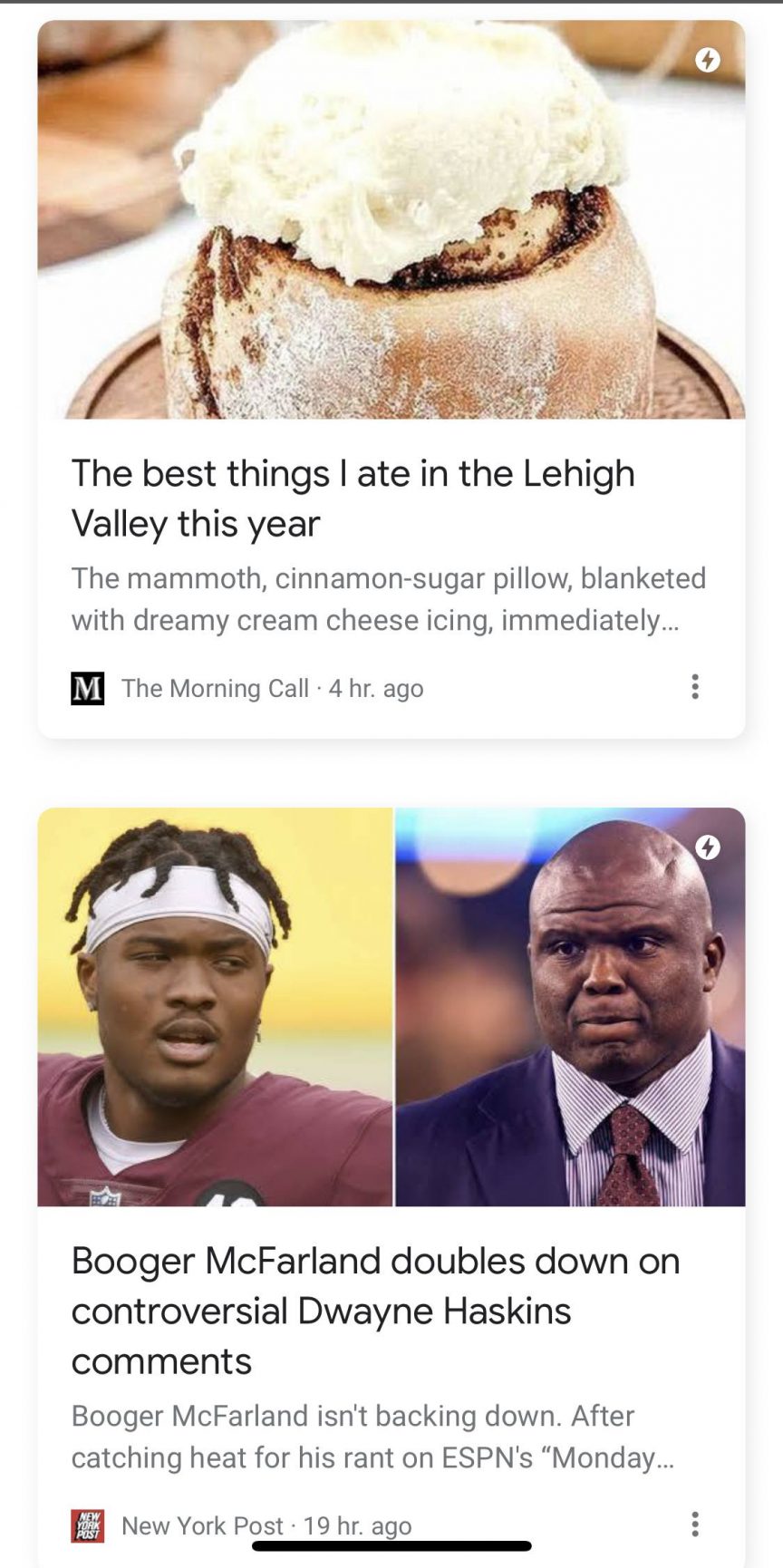 You want to optimize your content to rank in Google Discover so people most interested in your industry and business can potentially see your content in their Discover feed.
So, how do you get your content optimized for Google Discover?
One key element for helping your content appear in Google Discover is adding visuals to your content. Since this feed uses visuals when displayed to users, you'll want to ensure you add visuals to content, so you have a cover photo to appear in the feed.
Additionally, you'll also want to ensure you're creating targeted content that appeals to your audience. When your content is targeted, it's easier for Google to understand the context and recommend it to users.
By creating well-optimized content, you'll increase the chances you appear in Google Discover feeds and reach more qualified leads.
10. Providing a positive user experience
For the future of SEO in 2022, you need to focus on a positive user experience. With more people shopping online, it's fundamental that your site provides the best experience.
Since the COVID-19 pandemic, more people are staying safe by shopping online and getting products delivered to their homes. If you look at Black Friday alone, sales jumped from $7.5 billion in 2019 to $9 billion in 2020.
This trend will continue well into 2022, as more consumers shift to shopping online to get what they need. To prepare for this trend, you need to ensure that your site provides a positive user experience for your audience.
You can provide a positive user experience by:
Ensuring your site is secure with a

 

secure sockets layer (SSL)

 

for safe shopping
Verifying your site loads quickly so users can access information fast
Creating navigation

 

that makes it easy for users to find products quickly
11. Integrating omnichannel marketing
Last on our list of SEO trends for 2022 is omnichannel marketing. While SEO is an extremely valuable and fundamental strategy for your marketing plan, it's not the only one. People will discover your business through multiple channels, so you need to take an omnichannel approach with your marketing.
People can discover your business through channels like social media ads, pay-per-click (PPC) ads, or organic social media posts. If you aren't optimizing for these strategies, though, you make it harder for new people to discover your business.
Additionally, once people discover your business, you want to keep them interested. That's where marketing channels like email marketing and social media marketing can help you nurture leads towards converting.
A multi-channel marketing strategy helps your SEO because it enables you to drive people to your site. Whether you send them an email to your latest blog post or share it on social media, you create new opportunities for people to visit your site.
Prepare for the future of SEO in 2022
Now that you know the latest SEO trends, it's time to start preparing your site for the future of SEO in 2022. If you aren't sure where to start, WebFX is here to help.
We have a team of over 300 SEO experts that can help you optimize your site to rank better in search results. With over 20 years of experience, you can feel confident that our award-winning team of SEO experts can help you drive success with your SEO.
Ready to get started? Contact us online or call us today at 888-601-5359 to speak with a strategist about our SEO services!
awaken your business
with daring marketing
New Wave Strategic Marketing is a full service marketing agency born and raised in Calgary, Alberta. We are no strangers to drive and ambition, and we are especially passionate about helping our clients reach their digital marketing goals. Driven by our belief that new media and technologies is constantly on the move, changing the way average consumers think, purchase, and choose who they will go to for services. In this age of distraction, our focus is to ignite your organization's potential, reach your business goals, and to create a loyal community surrounding your brand.
Ask us about advertising for your business!
LET'S GROW YOUR BUSINESS, TOGETHER!